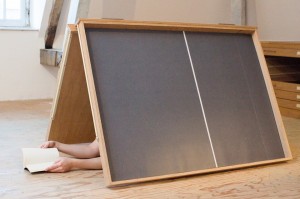 Vanavond presenteert kunstenaar Baha Görkem Yalım een performance gebaseerd op Het klokkengelijkzetinstituut, een roman van Ahmet Hamdi Tanpınar. De Turkse tekst vormt samen met de Nederlandse, de Duitse en de Engelse vertaling van de roman het uitgangspunt voor de (Engelstalige) voorstelling.
Uit de aankondiging:
"The performance follows a similar allegory to Tanpınar's: replacing critique with a compositionist proposition, this time also subjecting western modernity. Time Regulation Institute aims to bring together the detached plateaus and ideological plains of middle east and west, not only by dealing with the question who is entitled to inhabit empty spaces?, but also through its oblique critique and allegorical movement; the horizontalisation of the vertical. Simultaneously the work questions freedom from the perspective of an immigrating artist." 
Adres:
Kraijenhoffstraat 34
1028 RL AMSTERDAM
Aanvang: 20.30 uur (deuren open om 20.00 uur)
Klik hier voor meer informatie over de performance.
De performance wordt georganiseerd door Manifold Books, een platform, geïnitieerd door Maartje Fliervoet, dat de verbindingen tussen kunst en boeken onderzoekt. Klik hier voor meer informatie over het platform en (eerdere) performances.