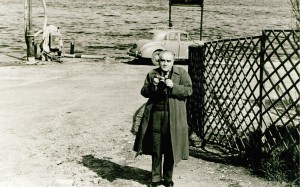 Rowing on the Bosporus and strolling through the streets of Istanbul, to Mümtaz, the protagonist of Ahmet Hamdi Tanpınar's novel Huzur ('A Mind at Peace') the city becomes a map of melodies. Like James Joyce's Leopold Bloom, Mümtaz goes for endless walks in his hometown, the former capital of the Ottoman Empire, thus traversing large parts of the city, not only on 31 August 1939, the day that is described in the novel, but also in flashbacks taking the reader on a journey through time.
Istanbul, music and time are recurring themes in the work of the author Ahmet Hamdi Tanpınar (1901-1962). They will be the topic of an (English) lecture I'll give on Thursday 23 January at 18h30 in the Netherlands Institute in Turkey, Istanbul.
For more information please click here.